Forget About The Cold With An 800 Fill Goose Down Comforter
An 800 fill goose down comforter/duvet is a lusciously puffy duvet that provides a lot of warmth, especially if it is also filled with a high quantity of goose down.
Level IV 800 Fill Power European White Goose Down - Full/Queen Duvet Filler
If you're always cold or you enjoy sleeping with the temperature down low during cold seasons, or if you like to keep a window opened year round, an 800 fill goose down with the maximum amount of down for the size will definitely be appreciated.
I'm one of those crazy Canadians who sleeps with the window opened year round and set my bedroom thermostat way down to 60of (16oc).
The Healthy Choice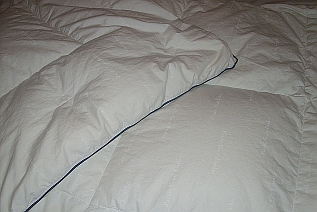 If you're wondering why, it's because sleeping in a cool room is the perfect environment for healthy, comfortable, deep sleep.
According to Dr. Mercola from the world's most popular natural health newsletter at mercola.com suggests that we should keep our bedroom temperature lower than 70of (21oc) to get the most benefit from our sleeping hours.
The sleep doctor, Michael Breus PhD from the Insomnia Blog.com recommends among other helpful suggestions, a cool bedroom and a warm blanket to keep your skin warm to truly benefit from sleep for "an immediate and lasting impact on beauty, weight, sex, health, and more".
My king size 40 once high fill power goose down duvet makes it possible and keeps me cozy too. It's amazing that such a light weight comforter can provide such an amazing quality of warmth. If compared to conventional blankets you might feel suffocated under all the weight that would be needed to keep you warm.
Hot sleepers should go with a lower fill comforter, and would find that an 800 fill goose down comforter/duvet is just too hot.
But if you always find yourself cold at night, you live in a cold winter climate, or enjoy the sleep benefits plus the allergy relief from sleeping in a cool and well ventilated room you can't go wrong with high 800 fill power goose down bedding.

Return from this 800 Fill Goose Down page to the Down Bedding Delights home page.