Down Filled Sleeping Bags
Down filled sleeping bags are the best.
They keep the most avid camper warm and amazed with their light weight.
Also great in the car trunk as an emergency blanket Down Sleeping Bag
Do you worry about your kids being cold when they are away either on a field trip or sleep over? Supply them with a down filled sleeping bag and your worries will vanish knowing the kids will feel at home in their warm and cozy sleeping bag.
Where You Headed?
If you are planning an expedition in extreme conditions we suggest you consult experts in the field before purchasing your gear for the sake of safety and comfort on your journey.
A good sleeping bag is a core requirement for any camper or adventure traveler, but you face a staggering selection when buying a down bag.
Knowing what you are going to use it for and how much you are prepared to spend will simplify the purchase.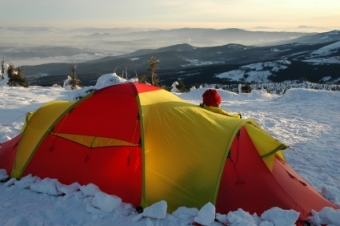 It is of utmost importance to consider the climate in which it will be used. Needs will be very different for back yard campers, heat seeking tropic travelers and Arctic adventurers. If you set off with the wrong bag you may find yourself boiled in California or worse yet, frozen to death in the Arctic.
General Sleeping Bag Weather Ratings

Summer

+ 5o Celsius

Spring – Summer

+ 5o to 0o Celsius

Spring – Summer – Fall

0o to -5o Celsius

Spring – Summer – Fall – Winter

-5o to -10o Celsius

Winter – Extreme Conditions

-10o to -30o Celsius
CARE
We trust our sleeping bag to care for us in rugged and sometimes extreme conditions. Time spent cleaning down sleeping bag will be time well spent.
SYNTHETICS
Take a look at the Down vs Synthetics Page to see that a goose down sleeping bag will out perform synthetics across the board with the exception of wet or damp climates. Synthetics are water proof and dry quickly so in situations when getting wet is to be expected synthetics are likely to be your best option.
Return from this Down Filled Sleeping Bags page to the Down Bedding Delights home page.