Emergency Down Sleeping Bag
A down sleeping bag could save your life in a pinch. They are very insulating and can keep you warm even in freezing temperatures. If you're a winter driver you understand the anxiety and stress of being stranded by a break down on a country road or getting lost in a blizzard, and the threat of freezing to death.
KEEPING WARM IS # 1
WHEN LOST OR STRANDED IN WINTER WEATHER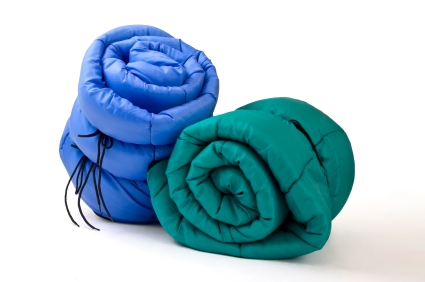 So it's a good idea to include one like the Marmot Down Yurt 40 Degree Sleeping Bag (Fall 2009)
in your car's emergency kit!
If you have the space include at least one sleeping bag for every two passengers. No one will mind squeezing together for a while if they are freezing to death.
OR
Get a bag for two.
Buy the rectangular sleeping bags that unzip on the bottom and side to open up like a blanket (barrel sleeping bag) rather than investing in an expedition mummy type sleeping bag.
You will have more room in a barrel down sleeping bag and you can invest the money saved on something more practical like waterproof fabric.
The Down Sleeping Bag Is There So Use It!
Leave it in the car year round. If you roll the sleeping bag up neatly it shouldn't take up much space, and most are sold with storage pouches that keep the sleeping bag clean and dry.
When fully unzipped they come in handy
They also come in handy for kid's sleep overs and field trips. PLUS you won't be worried about them being cold while they are away.
Keep them rolled up to use as pillows on long road trips WARNING for PASSENGERS ONLY ;-))
Spending on a sleeping bag for the car is a useful and potentially life saving purchase.
Why Down Filled Sleeping Bags
Not Synthetics
Ok, delights aside [now that's a stretch for down-bedding-delights] a synthetic material just does not insulate the way waterfowl down and feathers do.
You would have to buy the expensive best quality synthetic "stuff" to come close to the warmth that even an economical duck down sleeping bag would provide.
It's important if you travel during cold weather conditions that your sleeping bag be rated for the climate!
Somehow duck or goose down would sound more reassuring than synthetic during a -30 below Canadian cold spell.
Other Emergency Kit Supplies
First Aid Kit
Water Bottles
Candles
Wooden Matches
Granola Bars, Dried Fruit & Nuts, Dry Cereal
Flashlight & Batteries
Extra Socks, Hats, Gloves
Return from this down sleeping bag page to the down bedding delights home page.