Affordable and Versitile Down Filled Blankets








If you would love a duvet but can't bare the price at the moment consider down filled blankets. If it's time to replace your blanket consider a down blanket for it's exceptional warmth, comfort, and durability.


Of course they aren't comparable with down comforters or duvets but they remain a delight as far as blankets go and provide versatility not found with a duvet or comforter.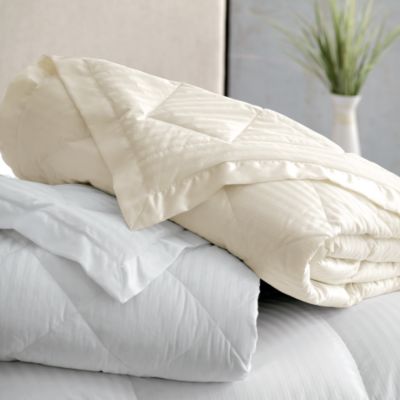 Legends Damask Stripe Down Blanket
Ideal for warmer weather or in the winter paired with a bedspread or comforter.

Perfect for those who find duvets too warm.

Most often machine washable (always follow the manufacturers instructions).

Light weight for children and the elderly.

Great for nursing homes.

Make great gifts.

A safe choice if you share your bed with a baby or toddler!

If you like to lie on the couch or curl up in your favorite chair, grab your down blanket or leave down throw blankets in those special areas.

Keep one on the veranda or swing for cool evenings.

Compact enough to keep one in the car as an emergency blanket.

Are available in a variety of colors, print, and fabric.
Down Filled Blankets Inside and Out
Everyone's needs are different and the selection of down blankets is almost as varied. Understanding label descriptions will be helpful in understanding product advertisements before making a purchase.
The main points to consider when purchasing a down blanket are:
Budget

Type of down and feathers

Fill power or loft factor

Construction

Fabric and thread count
If you aren't familiar with these terms take the time to visit our down comforters and duvets page for detailed descriptions of what they mean and how to best select the right blanket for you.