What is a Duvet?
If you're wondering what is a duvet or duvet insert? The simplest answer is, it's absolutely the most delightful and unique comforter like cover you will ever cuddle up with to sleep!
Duck and goose down duvets themselves are varied in types and construction but basically they are a sack filled with down and feathers and provide exceptional warmth and comfort to users. Anyone who has experienced sleep with a quality duvet such as a European Duvet is likely to become a down lover for life. Those who have purchased poor quality cheap duvets have probably been left out in the cold so be sure to understand what it is your are paying for.
Browse king size duvets here
Three parts make up what is a duvet:
How the duvet itself is constructed and sewn together.

The fabric used to construct the duvet and contain the feathers and down.
When you buy a duvet you also need:
A protective cover to keep your duvet insert clean and mites free. Although duvets can be washed at home they should not be washed any more often than needed and bedding protector covers are a smart and easy guarantee that you will benefit from your duvet for many years to come, even generations. They truly do become family heirlooms.

A decorative duvet cover to put over your duvet and protective encasement. Your duvet cover will become both your top sheet and bed spread cover so chose one that is both comfortable to touch and matches your design tastes. The great thing about having a duvet is you can change the style of your room with the ease of knowing that you will have still have the delight of your duvet. No matter how you wrap this gift, it's always a joy!
Sleep Benefits Of What Is A Duvet
Light weight and molds your body comfortably. It feels like a heavenly cloud caressing your body while you sleep.

As well as being a delight to the touch duvets can be comforting and promote relaxation.

They keep you warm in the winter and cool in the summer because they draw away moisture and perspiration.

With a duvet you can sleep with a window opened – even during -30 degree weather, and still save money on heating costs.

Provides some peace of mind. Never worry about yourself or the kids being cold at night even during a power outage or if the stove runs out of logs.

A down duvet can eliminate or reduce allergies. A healthy reward at the end of the day.

Make your bed look beautiful and inviting to sleep.

Awake refreshed and well rested.

Feathers and down are natural and healthy and produce NO off-gassing.

Go to bed happy knowing you are taking care of yourself. It's OK to pamper yourself a little – over the years your duvet is an investment that pays for itself. Unless you want to up grade or pass your duvet on it just might be the last blanket you ever buy yourself!
Plus offers the opportunity to have fun mixing and matching pillow shams with an individually purchased duvet cover.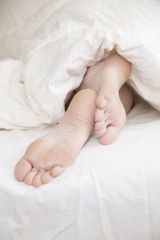 Beautiful Simplicity That's What Is A Duvet
If you want baby to get good restful sleep take him for a walk and some fresh air in the evening or before nap times. Protect your baby from the cold during your fall/winter walks with stroller duvets.


Return from this What Is A Duvet page to the Down Bedding Delights home page.