Be Prepared When Working With Bulk Goose Down
Bulk goose down and feathers are very light and lofty so they are easily blown about and can be a little hard to get control of.
Before working with your goose down bulk feathers make sure you close the windows and doors to stop drafts.
Work in a relatively uncluttered room or you may find feathers in all sorts of nooks and crannies later on.
Before you take out your feathers it's a good idea to clean your vacuum as best you can and put a new bag in it to collect unruly feathers and reuse them.

Work slowly and be patient. Make sure you have lots of time to get the job done, especially if you are handling the down by hand.
An enthusiastic Luke shares his love for down bedding while stuffing bulk goose down in part three of the Duck Experience.
Wash Before Reusing?
You might want to wash them before reusing them. One way of doing that is putting the feathers in a zipper closed pillow protector. Put a safety pin at the end of the zipper to keep it shut in the wash. If you aren't comfortable reusing feathers keep them for kids craft projects.
Left Over Ideas
Bulk down and feathers can be used to replenish existing bedding.
To make cushions or accent pillows.
Or to make a stroller duvet for a special baby.
Draft stoppers for windows and doors are great for beginners.
And a down and feather pet bed is great for keeping small, short haired dogs cozy and warm.
Unleash your imagination and set your sewing machine to action to create wonderful hand crafted gifts to delight and spoil those you love.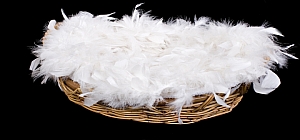 Return from this working with Bulk Goose Down to the Down Bedding Delights home page.