Eiderdown Duck Bedding


Eiderdown duck down is the highlight of down bedding delights.
If you like to experience the best, luxury eiderdown is for you!
If you insist on a cruelty free Eiderdown comforter, Eiderdown bedding is for you!
Purchasing Eiderdown duvets or pillows is costly but well worth the price in quality and comfort if you are able to afford it. Eiderdown duck bedding should be considered as heirlooms for generations to come and the delights you experience from your bedding will have you raving to family and friends.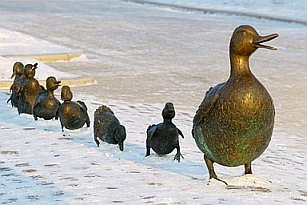 Get All Your Ducks In A Row

Recognizing quality isn't always obvious so before investing in any down bedding product it's important to have a basic understanding of the differences in the products available on the market.

#1 I suggest a company with an establish reputation and products with recognized assured quality labels.


#2 Consider the construction of the duvet. Is it baffle box or traditional stitch?

#3Keep in mind that a 700 fill power Eider duck down insulates at the equivalent of a 850 - 900 fill power of goose or other duck down.

#4Determine the type of fabric and thread count that covers the down.

#5What type of guarantee is offered with the purchase?

#6What is the return policy if you are unhappy with the product? If you are making an international purchase be sure to find out about the shipping terms for both the purchase as well as the return policy.
Shopping
When shopping online feel free to contact vendors with questions. Both on or off line they should freely answer questions regarding their products. If they are selling quality they won't hesitate to give you all the information they can.

Suggested suppliers to consider in your search for Eiderdown bedding:
Bettenhauscanada.com

St-Geneve

Billerbeck Schweiz AG
Return from this Eiderdown Duck page to the Down Bedding Delights home page.