Why You Deserve A Feather Bed Topper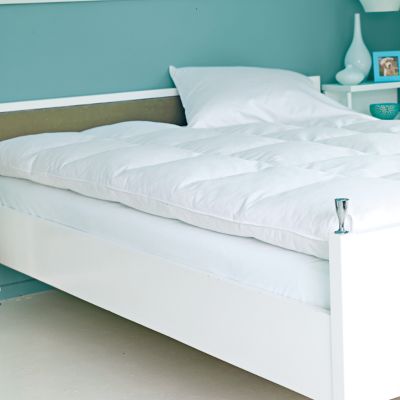 A feather bed topper will give new life to a worn mattress or added comfort and warmth to a more recent sleep set. A new mattress set is costly and sometimes needs some planning for.

If you find yourself in this situation just a few hundred dollars spent on a Legends Luxury Ultimate Down Bed
can make the wait bearable.

They are also great for the dorm room – nothing will make your kids feel more at home than a comfy & cozy bed.

Offer yourself the luxury of a high end hotel but in the coziness of your own home.

Add a goose down comforter/duvet to your feather bed topper and add your personal touches to make your room better than a hotel room any day!
On A Small Budget
If your budget is holding you back take a lot at this great mattress cover filled with 600 fill power white goose down and fits a mattress up to 15" deep.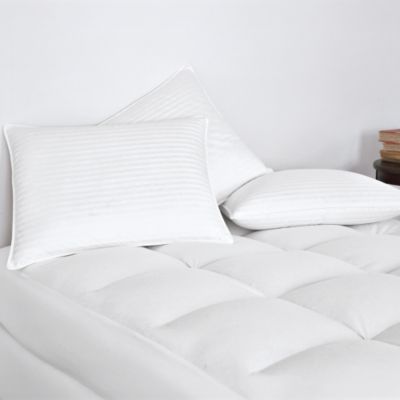 Why's It Important?
According to a recent survey by the Better Sleep Council nearly three-fourths of baby boomers aren't getting a full eight hours of essential sleep. It's doubtful that the generations X and Y are doing any better. We may not be able to add the extra hours needed each day to get a healthy amount of sleep but we can offer ourselves an inviting and comfortable place to relax for the time we do have.
The list of tips and tricks for a better nights sleep is endless but at the foundation of it all is the comfort of your bed. That includes your mattress set, linens, duvets, pillows, calming scents, soothing music, soft linens and a cloud upon your bed – a feather bed inviting you to drift away into sleep. Mattress toppers truly do offer the ultimate in bedding comfort and delights.
Down and feather mattress toppers contour your body cushioning pressure points like your shoulders and hips to relax your body and take you to a new level of comfort. A good feather bed will promote muscle relaxation and improved circulation, not to mention the delightful sensation of being gently held.



Benefits
Gives your bed a plush & luxurious look.

Relaxes muscles and improves circulation.

Gives new life to an old mattress.

Provides added protection for your mattress.

Keeps you warm and snug even in cold temperatures.

Allows you to lower the thermostat and save on energy costs.
Enjoy a restful nights sleep and benefit from a productive and enjoyable day! How can you not afford to offer yourself the luxury of a feather bed.

Return from this Feather Bed Topper page to the Down Bedding Delights home page.