Mattress Covers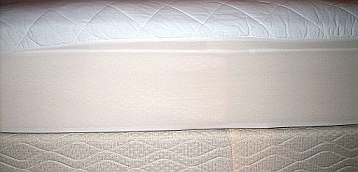 If you have bedding and I suspect that you do ;-) the use of mattress covers (aka mattress pads) is a must for clean, healthy sleeping.
Mattress sets are an expensive item to purchase and should be protected to get the maximum of comfort and use.
Your needs are very different depending on if you suffer from allergies, bed wetting & spills, have children or pets, and depending how you use your bed. Do you watch TV or snack in bed? We all know what we should and and shouldn't do, and then there's what we really do. This is no time to be in denial.
Refer to the chart below as a guide line only
| | | | |
| --- | --- | --- | --- |
| | Vinyl Alone | Fabric & Waterproof Lining | Fabric Alone |
| Comfort | None | Comfortable | Excellent |
| Allergy Portection | Some | Most | Least unless hypoalergenic fabric |
| Kids or Pets | OK, but may tear | Best | Insufficient |
| Waterproof | Yes | Yes + Absorbance | Absorbance Only |
| Cleaning | Wipe off with cloth | Machine Wash | Machine Wash |
| Price | Inexpensive | Costly | Affordable |
*Always read manufacturers descriptions and instructions to know exactly what you are purchasing and what is required to clean the mattress encasement.
Mattress Cover Sizes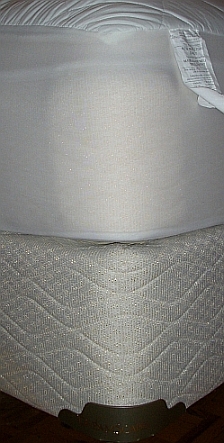 Cover sizes are the standard twin, queen/full, and king but take your measurements to be sure. Some encasements are made specially with deep pockets to accommodate cushion top mattresses or mattress pillow toppers.
Most mattress protectors use either stretching elastic grip corner pockets like the one in this picture or a zipper closure that goes all the way around your mattress.
Mattress Covers 101
Allergy proof (aka hypoallergenic mattress encasements) covers are made with high quality thread count fabric such as Cambric or Egyptian cotton. These fabrics go through a special compression process that make the weave very tight blocking out most allergens and mites. The quality of hypoallergenic bedding products is reflected in the price so keep a look out for sales.

Some mattress covers are specially constructed and have special zipper closures that claim they can even block bed bugs! Not an easy claim to live up to and, not having tested (nor wish to test) this product I remain skeptical.

If you own a protected feather bed and don't have pets, or kids, you should be well protected with a vinyl cover and still be very comfortable.

Add a flannel blanket between a vinyl cover and your contour sheet to add some comfort. The blanket will absorb some of the extra moisture so make sure you wash the added blanket weekly along with the linens.

Fire resistant mattress covers are a great idea but... Shame on you if you smoking in bed!

There is a fire retardant mattress and box spring cover set available on the internet but one customer review states that "they are for prisons". Not exactly a selling point. The good thing is that patents are pending on such products so maybe we will find something more suitable for family bedrooms out there soon.
What ever you do make up your mind about what type of protection is best for you and get your mattress protected. Accidents happen quickly and time goes by even faster.
If you put if off before long you will have a mattress spotted by stains and full of dust mites.
Return from this Mattress Covers page to the Down Bedding Delights home page.